Free Sample Offer* Limited Time Deal
Free Sample Offer* Limited Time Deal
Yes, get our GheeStore Sample Pack for Free!!!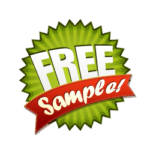 How to get?
Step 1: Add "GheeStore Sample Pack" to the cart. You should add only one product during checkout to get Free Sample offer.
Step 2: Apply coupon code: FREESAMPLE
Step 3: Please verify that you see that total amount including taxes are applied as "cashback"
Step 4: Proceed to checkout, you will see INR 35 as shipping charges for Outside of Chennai customers
Step 5: Payment can only be made online via online payments for Free Sample pack
Step 6: Cashback will be credited to your GheeStore Wallet account, once the product is delivered
Step 7: Use the cashback for any future purchases in GheeStore. No other restrictions apply.
*Terms & Conditions apply.
Cashback will be applied only if coupon code is used

, users cannot claim later. Cashback will be automatically credited to your account after the delivery. Only one Free Sample per customer. Cashback is not applicable for two or more products together. No other offers can be combined. Delivery will take 5 to 15 days.
Shipping charges will be excluded from the cashback. Please check the discount amount before placing the order. Limited period offer.

For any clarifications, do not hesitate to chat with us from the website using Facebook messenger or WhatsApp to our mobile number 9790811777, which has faster response. Alternatively email to cc@gheestore.in
Add cc@gheestore.in to your email address book to receive emails from us. Also see our Discount Offers section for other promotions and offers!
*Management reserves the right to modify the offer at any point without prior intimation.