unrefined oil
Showing all 2 results
Sale!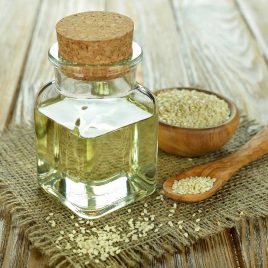 Cold Pressed Marachekku Sesame Oil – Gold
Cold Pressed Marachekku Sesame oil is also called 'gingelly oil. Considered to be sacred and ideal for the Lamp, sesame oil is used in most temples in India. The nature of sesame oil is "Satvic", meaning pure. Sesame oil lamp fire has reduced soot while burning.
cold pressed Marachekku sesame oil is used extensively in South Indian cooking. For thousands of years, it was observed to bring many health benefits. Sesame seeds were one of the first crops processed for oil as well as one of the earliest condiments. In fact, the word 'ennai' that means oil in Tamil language has its roots in the Tamil words "eL" and "nei", which mean sesame and fat.
Research in Japan has shown that a diet rich in sesamin, a natural phytoestrogen found in sesame oil, reduces the risk of renal hypertension and cardiac disease.cold pressed chekku sesame oil is also rich in oleic acid, the major constituent of olive oil. Sesame oil is an aid to digestion, stimulate blood circulation benefits the nervous system and has natural antioxidants present in it.Sesame oil makes ideal massage oil because of its excellent emollient properties.
Note: The price Chekku Gingelly Oil and Cold Pressed Chekku Sesame oil is different due to the quality of seeds used to extract the oil. Both are extracted using the Chekku (means pressing machine in Tamil) without giving heat through a natural process, hence it is also called as Cold Pressed Oil in English.
https://gheestore.in/product/chekku-gingelly-oil/
not rated
₹

135.00 –

₹

360.00 Excl. GST
Select options
Sale!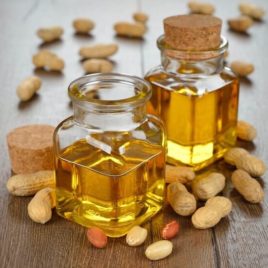 Marachekku Groundnut Oil
Cold Pressed Chekku Groundnut Oil
Peanut is also known as goober, pinder, groundnut, earthnut and ground pea. Groundnut oil is natural sweet and flavoured edible oil. Refined Groundnut oil has a light yellow color and a neutral taste. This is extracted from pressing groundnut kernels. In addition to extracting the oil, groundnuts are eaten raw or roasted, and used in cooking and bakery as well. Groundnut oil is very high on energy, has a very high burning and smoking point, and contains monounsaturated fats, Vitamins A, D and E.
Physical characteristics of peanut oil
Cold pressed peanut oil has deep yellow color with pleasant nutty aroma and sweet taste. Refined oil has light yellow and has the neutral taste. However, refining makes it virtually devoid of impurities and allergens. Its specific gravity @ 25 °C is 912-0.920, Iodine value-84–100, and saponification value-185–195.
Peanut oil nutrition facts
Peanut oil is high in energy; 100 g oil provides 884 calories.
It is one of the cooking oils with a high smoke point; 450 °F. The property can be employed in setting oil temperatures while deep-frying food items.
Peanut oil has very good lipid profile. It has saturated, monounsaturated and polyunsaturated (SFA: MUFA: PUFA= 18: 49: 33) fats in healthy proportions.
It is one of the stable cooking oils; having a long shelf life.
not rated
₹

120.00 –

₹

260.00 Excl. GST
Select options